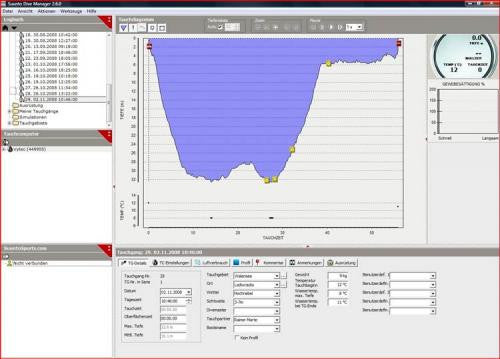 SUUNTO DIVE MANAGER
SS018214000
Regular price
£45.00
/
Tax included.
Shipping
calculated at checkout.
---
Free UK & Ireland Shipping
The Suunto DM5 software allows you to both transfer your dive computer's logbook data to your laptop for detailed analysis and upload detailed dive plans from your laptop to your dive computer. Suunto DM5 is free to download and will be updated automatically when you are online.
Before you begin a dive, you can easily plan dive profiles, gases, and back up plans on your laptop using DM5's detailed graphical planner and export them to your wrist top dive computer using a compatible USB cable, ready for your next dive.
Suunto DM5 now features real gas calculation. Because factors such as compressibility and temperature at fill up are taken into account, your gas blend is more likely to correspond to the one you want than if ideal gas calculations were used. This results in less tweaking of dive plans, particularly when using trimix.
You can transfer data such as dive profiles, maximum depths, temperatures, air consumption, and nitrox data directly from your dive computer to your laptop. You can also enter dive locations, names of your friends, equipment, and other comments – just as you would do with a conventional paper log.
The simulator function helps you gain greater understanding of decompression theory and computer-assisted multilevel diving, and is also an excellent tool for dive instruction.
Suunto DM5 is now available in English, Dutch, French, Finnish, German, Japanese, Korean, and Spanish language versions.
Free UK & Ireland delivery on order over £50.00. If order is placed before 12pm and item is in stock will be dispatched same day.