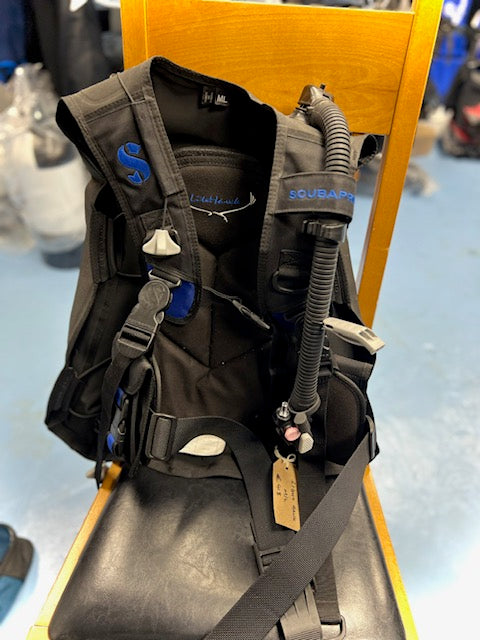 Scubapro LITEHAWK Old Model
Regular price
£391.99
Sale price
£313.60
Save £78.39
/
Tax included.
Shipping
calculated at checkout.
---
Free UK & Ireland Shipping
THE ULTIMATE STREAMLINED TRAVEL BC
 Lightweight, low-profile design is built with dive-trekkers in mind.

This is an Old model brand new with a great discount. 
 In the world of scuba diving, nothing exemplifies freedom of movement better than the feeling you get wearing minimal thermal protections and a bulk-free, back-flotation BC while cruising the crystalline waters of the tropics.  Especially if it's a back-flotation BC built specifically for that purpose. Like the LITEHAWK.
The LITEHAWK is the ultimate back-flotation travel BC. Its lightweight, ultra-slimmed-down design and soft, flexible backpack lays flat and compact for packing. The adjustable belt-style waist strap with nylon buckle can be cinched up snug, and the quick-release rotating shoulder buckles that let you route the straps under your arms, plus the two-position sternum strap, hug your body like the BC was custom-made for you.
But you can't fully appreciate the LITEHAWK until you get it in the water. With the tank secured by a lower primary tank band, an upper support strap and an adjustable yoke strap, the entire system locks in, ensuring a controlled, stable ride at depth. The BC carries no inherent buoyancy so only minimal ballast weight is required. Consequently, the two non-ditching pockets can be used to carry accessories. Optional quick-release weight pockets are also available, and four aluminum D-rings provide convenient clip-on points for additional gear.
 The LITEHAWK provides a streamlined package that travels easy and delivers a comfortable, stable ride at depth, making it well-suited for both tropical and temperate water travel diving.
Technical Information
Compact, lightweight design with soft backpack makes it perfect for dive travel.
Constructed of 420 denier nylon for lightweight and long-lasting durability.
Low-profile, progressively-shaped rear air cell increases range of motion while decreasing drag.
Elastic cords rein in the air cell when partially inflated and help control deflation.
Clutter-free ergonomic harness eliminates bulk and enhances freedom of movement.
Multiple band and strap system keeps tank secure and increases stability at depth.
Three-dump deflation system lets you to dump air from a variety of underwater positions.
Adjustable belt-style waist strap with nylon buckle offers a snug fit for any body shape.
Rotating quick-release shoulder buckles allow you to optimize the routing of your shoulder straps to maximize fit.
Two basic accessory pockets are included.
Optional weight pockets are available.
Two rear trim pouches allow you to achieve a well-balanced swimming position.
Four aluminum D-rings provide convenient clip-on points for additional gear.
BC comes equipped with a Balanced Power Inflator or an AIR2.
Free UK & Ireland delivery on order over £50.00. If order is placed before 12pm and item is in stock will be dispatched same day.