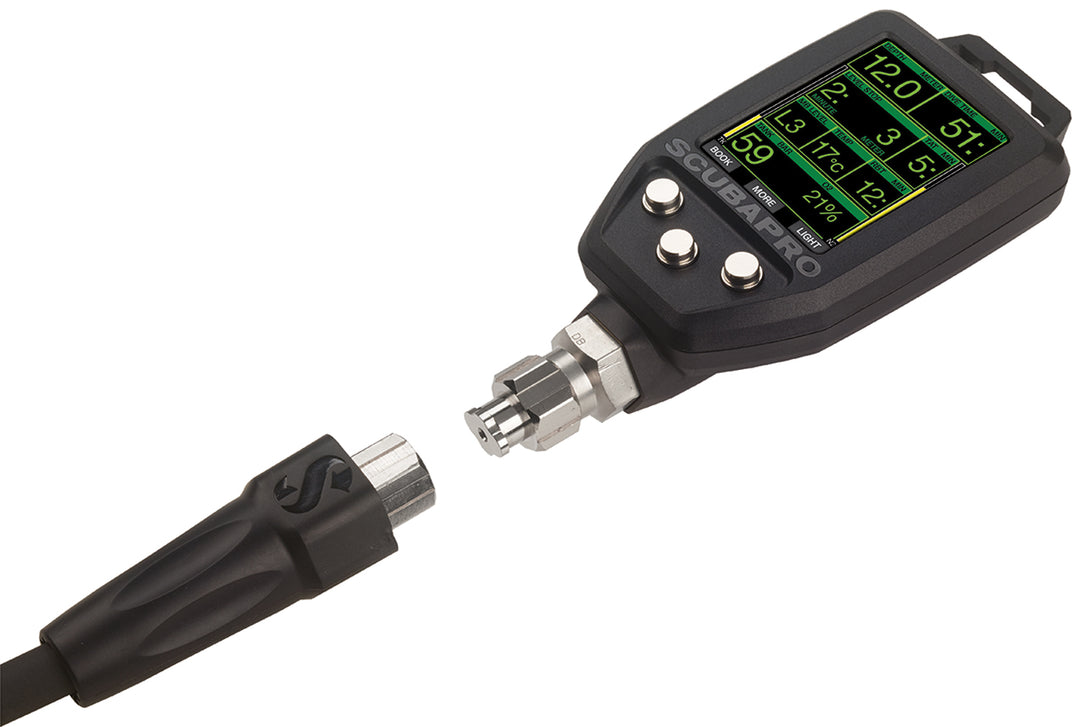 G2 Console with quick-release and Scubapro HRM Belt
05.081.111
Regular price
£1,055.00
Sale price
£949.50
Save £105.50
/
Tax included.
Shipping
calculated at checkout.
---
Free UK & Ireland Shipping
MAKE IT YOUR OWN
The G2 Console is the most diverse and customizable console-style computer offered. From thoughtful design details like easy-to-read screen templates to an intuitive menu system to personalized color choices - the G2C is literally tailored to you. Even your dive profile is one of a kind - based upon your real-time breathing rate, your skin temperature and your heart rate. It's as unique as you. The digital compass can't be beat, and a choice of languages and characters lets you receive dive data in your mother language. Data downloading and analysis is easy with full Android/iPhone/PC/Mac compatibility.
TARGETED TO ALL DIVERS
With all of its features, its ease of use, its screen options, its ultra-reliable air pressure monitoring, plus the ability to utilize as much or as little of the technology as you want, the G2C is poised to become the favorite computer for divers of all skill levels. The G2C is designed go anywhere -wherever your passion for diving takes you.
FAMILIAR SYSTEM MAKES IT A DIVER FAVORITE
Even though it's a fully loaded dive computer, the G2C is surprisingly easy to use. The high-resolution TFT screen produces vibrant colors and crisp digits that radically increase readability. A choice of screen configurations enables you to customize data presentation. Navigate effortless through the system via the three clearly marked stainless steel buttons. The G2C's rugged slim-line casing boot protects against bumps, and it includes a quick-disconnect fitting that allows you to detach the computer from your regulator system for data downloading, travel and storage.
SMARTER. BETTER.
Incorporating cutting-edge biometrics through Human Factor Diving™, SCUBAPRO offers the only dive computers in the world that take heart rate, skin temperature, breathing rate and water temp into account during a dive. This provides you with extremely reliable no-stop and decompression stop calculations, even under the most demanding diving circumstances. These patented features are available ONLY on SCUBAPRO computers.
Technical Information
Cell phone-style screen.

 

Very familiar and easy to read at depth.
Intuitive menu structure.

 

Simple 3-button control system and diver-friendly functions make the G2 Console extremely easy to use.
Full-color TFT (Thin-Film Transistor) 2.2in/5.6cm dot matrix display LCD screen (320x240p). Vibrant colors offer maximum readability to direct your attention to what you need to know.
TFT screens use less energy.

 

They are more efficient than other screen types to help extend battery life.
See as much or as little as you like. Choice of screen display configurations.

 

Customize your data presentation with Light, Classic, Full or Graphical screen options to suit your individual style.
Customize menu listings.

 

Utilize as much or as little G2C technology as you need - your choice.
Multiple language choices.

 

Select from more than 19 languages.
Convenient quick-disconnect fitting. Allows you to detach the computer from your regulator system for easy data downloading, travel and storage.
Predictive Multi-Gas ZHL-16 ADT MB algorithm.Advanced Uwatec algorithm programs up to 8 nitrox/trimix mixes to handle any recreational or technical diving scenario.
Algorithm calculates true remaining bottom time (RBT).

 

It also offers a series of Microbubble levels and incorporates Profile Dependent Intermediate Stops.
Integrated heart rate monitor.

 

Measures heartbeat and skin temperature and incorporates both into the workload calculations. The HRM also lets you visually track your heart rate "real time" to ensure you stay in your individual target zone to maximize your fun and safety at depth. (Maximum Operating Depth: 197ft/60m). Integration with the HRM Is exclusive to SCUBAPRO.
Improved, full tilt digital compass. The best available. Includes half-compass rose and bearing memory.
Rechargeable battery.

 

Provides up to 50 hours of dive time per charge.
Huge 485MB memory.

 

Stores pictures, tables, tissue loading status, and 1,000 hours of dive profiles.
USB cable or Bluetooth Low Energy interface.Easily download dive data wirelessly to your phone or handheld device. Download dive data to a PC/Mac using LogTRAK software.
G2C 1.2 Update Notes:
This software update addresses the following: enhanced Compass Calibration, improves the display refresh settings, adds Green and White Theme, and Language adjustments.
Free UK & Ireland delivery on order over £50.00. If order is placed before 12pm and item is in stock will be dispatched same day.