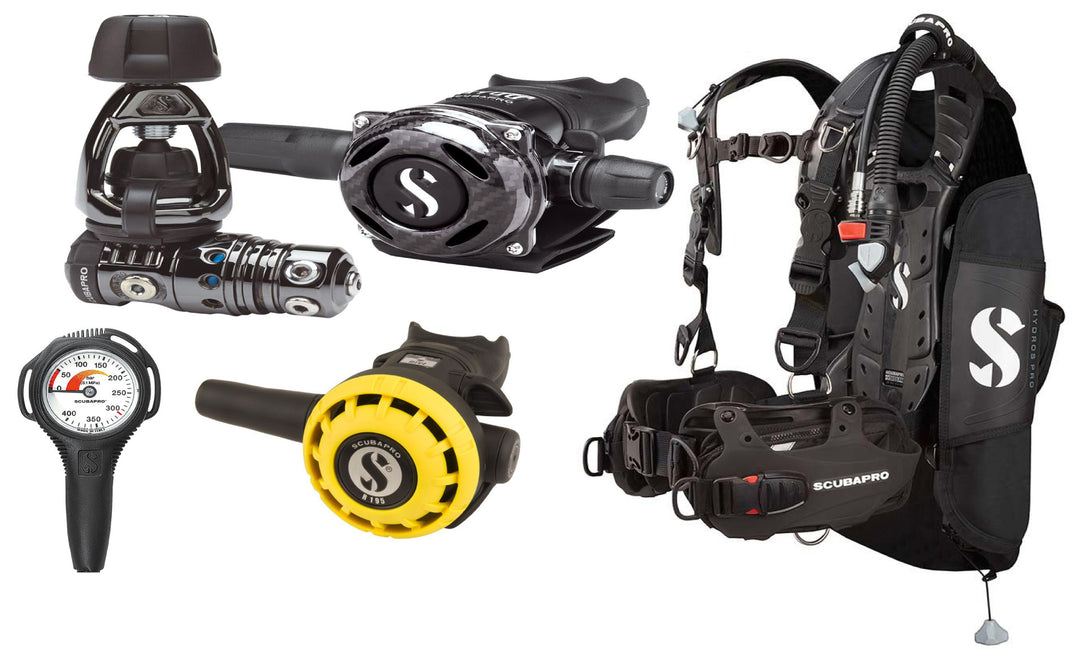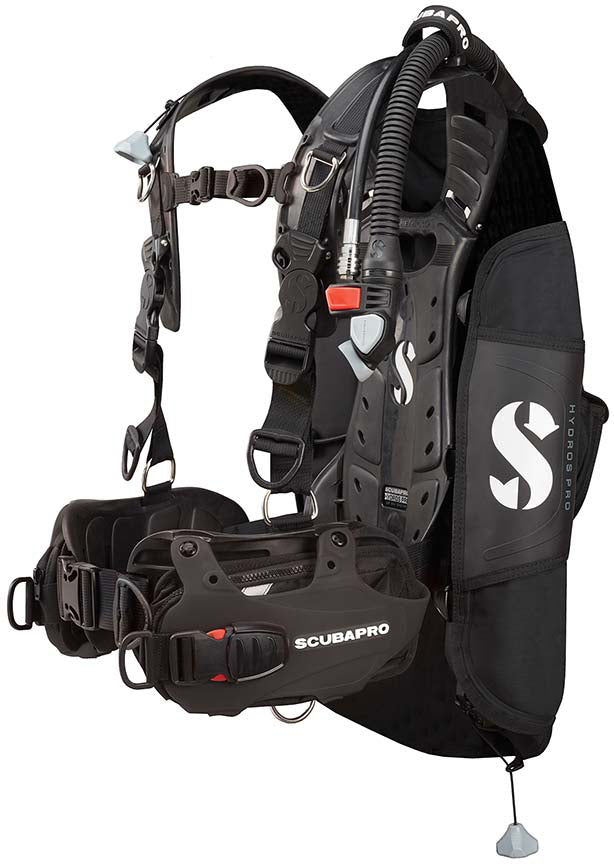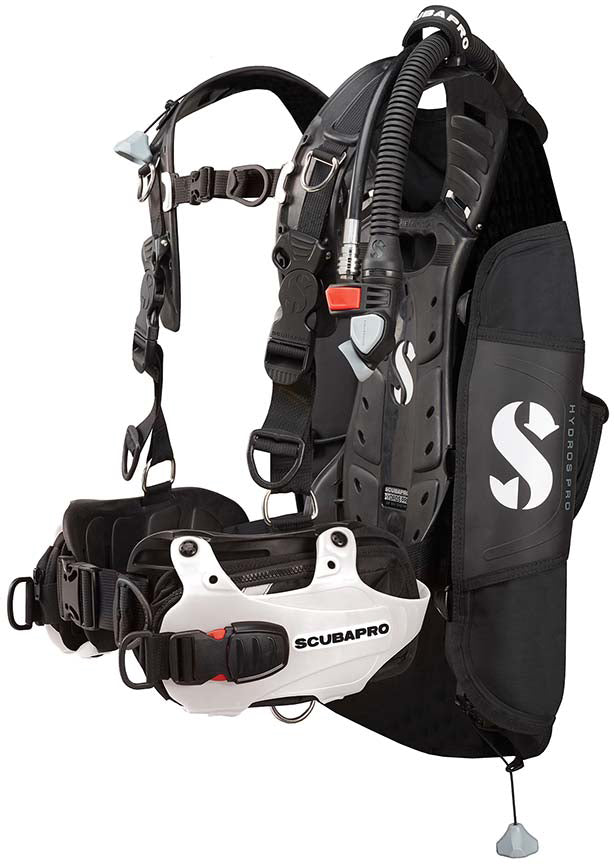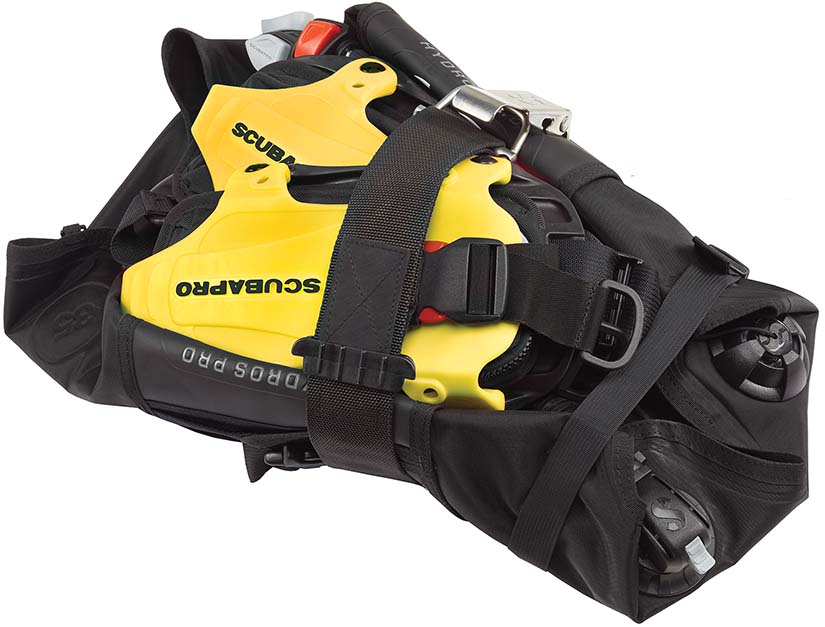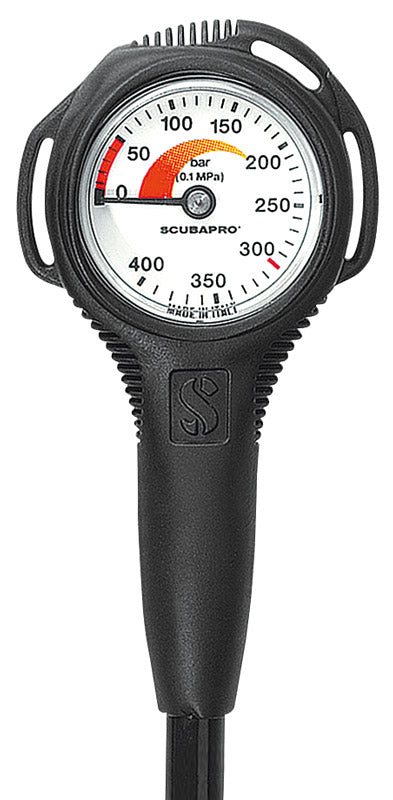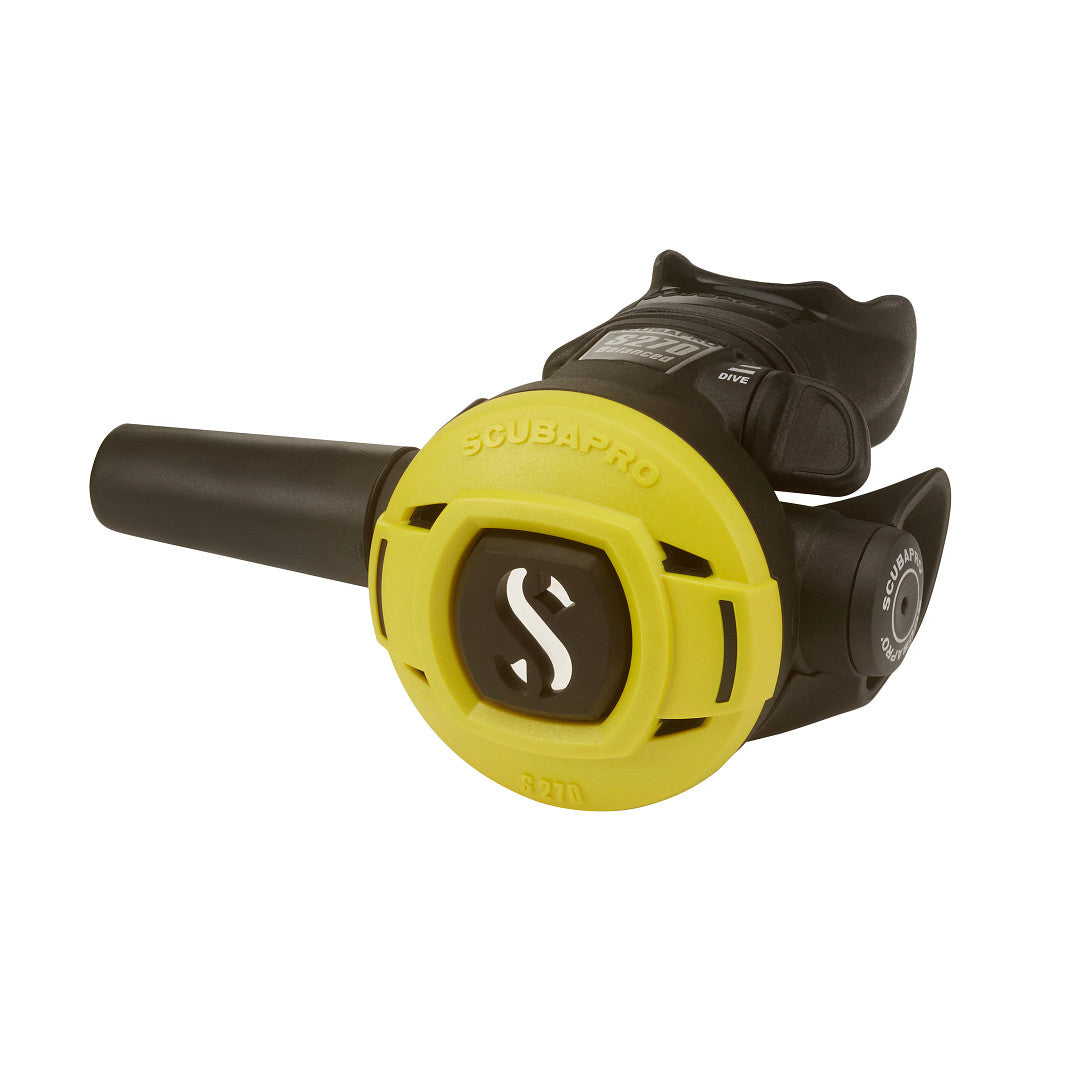 Hydros Pro and MK25 EVO/ A700 Carbon Black Tech with S270 Octo and Compact Pressure Gauge
Regular price
£2,208.00
Sale price
£1,987.20
Save £220.80
/
Tax included.
Shipping
calculated at checkout.
---
Free UK & Ireland Shipping
Durable? Lightweight? Top of the Range? 
All are contained in this fantastic Package.
SCUBAPRO's flagship reg system, featuring a tough hand-made carbon
fibre cover on the A700's full-metal casing, plus a unique DLC (Diamond Like Carbon) Black Tech protective coating on both first and second stages. Offering superb breathing performance, excellent impact resistance and dependable protection against the ravages of salt water and corrosion, this race-car-sleek system looks as good as it works. 
Wing or Jacket BCD? Why not have both! The Scubapro Hydros Pro takes the best of both worlds and then adds even more features. The Hydros has been winning awards ever since release due to its quality and adaptability. Designed as a modular unit, it can be changed to suit your own style of diving with parts added or even remove
Scubapro MK25 EVO/ A700 Black Tech
All the features and breathing performance of the MK25 EVO/A700 with the addition of a Black Tech coating that protects both stages against the ravages of salt water and corrosion. This rugged coating includes an inner layer of nickel (FDA approved) and an outer glossy DLC (Diamond Like Carbon) coated body. It lends a technical look while maintaining a sleek scratch resistance appearance that lasts. The second stage's handmade full carbon fiber front cover provides excellent shock resistance along with 32 grams of weight savings compared to the standard metal cover.
First Stage MK25 EVO
Air-balanced flow-through piston in a nickel plated brass body coated with DLC process, provides constant and effortless airflow unaffected by depth, tank pressure, or breathing rate
Patented XTIS (Extended thermal Insulating system) thermally insulates the inner mechanism from the environment, improving cold-water resistance by 30% and delaying ice formation in extreme cold-water conditions without compromising breathing performance. Key insulation system components are visible in blue
Spring insulating coating, body insulating bushing, anti-freeze cap, bigger body and cap thread all work in concert with the XTIS to improve cold-water performance
Anti-freeze protection radically increases breathing reliability when diving in the most extreme water temperatures
Two opposing high pressure ports allow the first stage to be positioned either up or down
Four high-flow and one axial super high-flow low pressure ports on a swivel turret maximize hose routing options
External intermediate pressure adjustment enables technicians to fine-tune performance quickly and easily
Available in either 232bar INT or 300bar DIN configurations
DIN version comes with a dual-compound wheel that features an ergo shape and soft grip on a rugged black nylon frame
Airflow at 200bar: >8500 l/min
Intermediate pressure: 9.0-9.8 bar
Second Stage A700 Black Tech
Extremely scratch and corrosion resistant, the Black Tech coating protects and lends a technical look to the second stage.
Rugged full metal case and valve housing are able to withstand years of aggressive diving.
Air-balanced valve smooths out the inhalation effort at varying depths and supply pressures
DLC Black Tech coating on the metal body offers anti-scratch resistance and a glossy black look
Handmade full carbon fiber front cover provides excellent shock resistance, plus the 32-gram weight savings (compared to the standard metal cover) increases comfort and reduces jaw stress
Metal construction enables the use of a larger diaphragm inside a compact casing, increasing breathing sensitivity
User controls include a diver-adjustable inhalation effort knob and coaxial-flow Venturi-Initiated Vacuum Assist (VIVA) lever
Super-flow hose features an oversized bore that allows more air to flow on each inhalation
Ultra-comfortable orthodontic mouthpiece is easy to grip yet doesn't inhibit airflow
Airflow at 200bar: 2000 l/min
Scubapro S270 Octopus
The S270 Octopus is tough, reliable, and easy to use. Its air-balanced design can be counted on to deliver top-notch breathing performance when you need it most.◊Air-balanced valve smoothes out the inhalation effort when diving at varying depths and supply pressures.◊Lightweight casing, made of a fiberglass-reinforced nylon core and a special PU outer layer, is extremely durable plus helps reduce jaw fatigue and improve diving comfort. ◊Technopolymer plastic barrel with a metal thread and a balanced valve helps save weight and provides a surface that ice crystals can't grab onto when diving in extreme cold water. ◊Dive/predive switch prevents free flows when not being used. ◊Exhaust tee is compact and very efficient in minimising exhalation effort. ◊Compact Hi-Flow mouthpiece is comfortable, made with FDA-approved silicone and features a large cross-section to maximise airflow.◊High-viz yellow front cover stands out, making it easy to spot when needed. ◊High-viz yellow super-flow hose is 39in/1m long with an oversized bore that allows more air to flow on each inhalation. ◊CE certified to the latest EN250A European Standards for all diving conditions, including extreme cold water.
Scubapro Hydros Pro
Mens in Black and Ladies in White.
The HYDROS PRO is a true breakthrough in dive comfort and convenience. The moldable Monprene®, adjustable fit and multi-attachment points combine to make this the most customizable and comfortable BC ever. Winner of the 2016 Red Dot award for product design, the HYDROS PRO is an incredible feat of SCUBAPRO engineering, built for anyone who loves to dive.
Interchangeable straps, a packable design and an included backpack with room for your entire dive kit make the HYDROS PRO perfect for any destination and any dive.
Product Highlights:
Durable
Monprene® construction means ultra durability. The HYDROS PRO also stands up to UV, chemicals, and abrasion -- without showing typical signs of wear.  And a modular construction makes repairs -- even from remote locations -- a snap. It's a BC for life.
The Perfect Fit
When you are wearing the HYDROS PRO, you won't even know it's there. The HYDROS PRO molds to your specific body shape, and has been designed with body grip gel, providing extreme comfort and stability. Near-Zero inherent buoyancy means less lead. And, thanks to a back inflation, smart air system you can dive in any position.
2-in-1 BC
The HYDROS PRO includes both the Trav-Tek straps and a fully integrated weight system. So, with a quick switch of clips, you can transform the HYDROS PRO from a harness travel BC to an integrated weight BC. Now you only need one BC for both local diving and travel.
Customize and Accessorize
Easily add, remove, or replace weight systems, bungees, D-rings, accessories and pockets to make the HYDROS PRO truly your own. With a wide range of mountable accessories and kits, your options are endless -- and can quickly be changed based upon the dive and conditions.
Travel Friendly
The HYDROS PRO goes everywhere with you. Instant dry, lightweight and compact, with a unique smart-pack design, the HYDROS PRO also comes with a customized backpack designed to fit your entire dive kit on your back.
TECHNICAL INFORMATION
Ultra Durable:

 

Patented Injection Molded Monprene® Gel Harness is extremely resistant to UV, chemicals and abrasion. The fabric-free harness uses no velcro or zippers.
Instant Dry:

 

Ideal for travel due to less water retention and lower post-dive weight.
"BC-4-Life" Modular Design:

 

Customizable to add/remove weight systems, straps and pouches. Extended lifespan due to simplified repairs. Virtually every component, including buckles, can be replaced without stitching.
3D Ergonomic Design:

 

Conforms to your body shape for maximum comfort.
Lightweight:

 

Advanced materials keep weight low.
Neutrally Buoyant:

 

Near-Zero inherent buoyancy requires less lead, resulting in better buoyancy control and much more enjoyable diving.
Body Grip Gel:

 

Prevents BC from shifting and riding up.
Dual-Compound Backplate:

 

Provides the ultimate in stability and comfort. Single tank band system allows for easier assembly.
Torso Flex Zone:

 

Auto-adjusts to your torso length for excellent comfort and freedom of movement.
Articulated Shoulder Straps:

 

Allow straps to adjust to your body shape to achieve a snug fit.
Kit-Up Assist:

 

Holds shoulder straps open for easy donning.
Cross-Flow Channel:

 

Unrestricted internal airflow reduces air trapping for enhanced maneuverability and easy deflation at any angle.
2-Stage Inflation:

 

Tri-bungee system controls air distribution to maintain a compact shape under water and high lift capacity at the surface.
Dorsal Weight-Wing:

 

Anti-abrasion and instant dry. Optimal "Outboard" trim pockets.
Buckle Weight System:

 

Simple, safe and reliable quick-release buckles offer a fixed location for easy one-hand operation.
Multi-Mount Accessory Matrix:

 

Multiple D-Rings and mounting points for a knife + light + SMB + hoses + crotch strap and much more.
Smart-Pack Design:

 

Folding shoulder and waist straps pack into the wing, creating an unbelievably compact package for easy transport and storage.
Scubapro Compact Pressure Gauge
SCUBAPRO's Compact Pressure Gauge is an ideal travelling gauge or back-up instrument.
400bar model, compatible with high pressure systems 200 and 300 bar systems.
Red zone between 50bar and 0bar for increased safety.
Two extra loops on sides to attach safety lanyard.
Free UK & Ireland delivery on order over £50.00. If order is placed before 12pm and item is in stock will be dispatched same day.