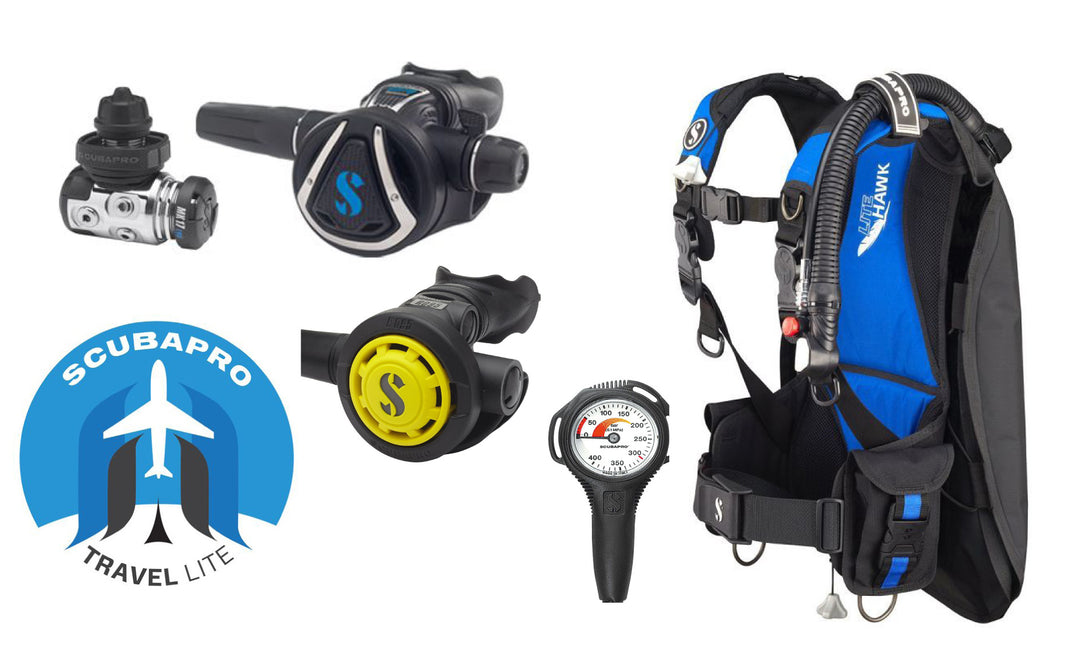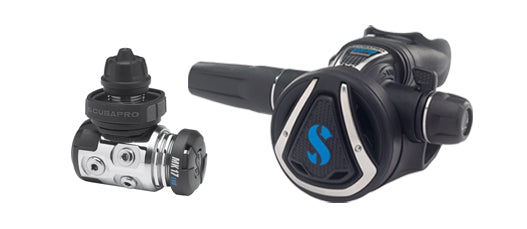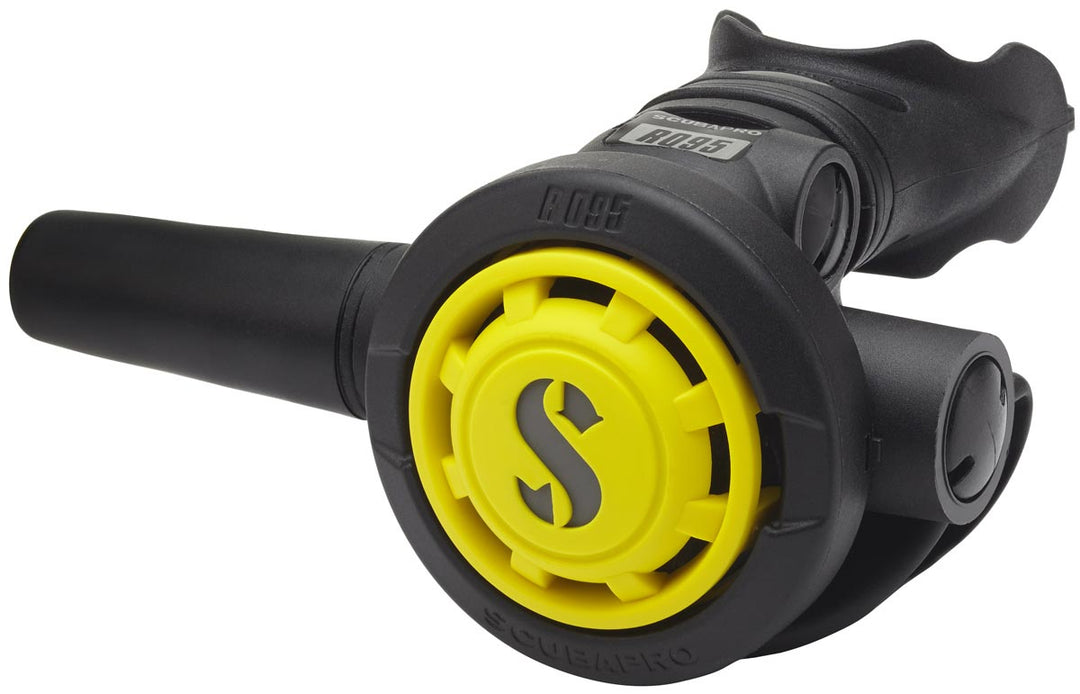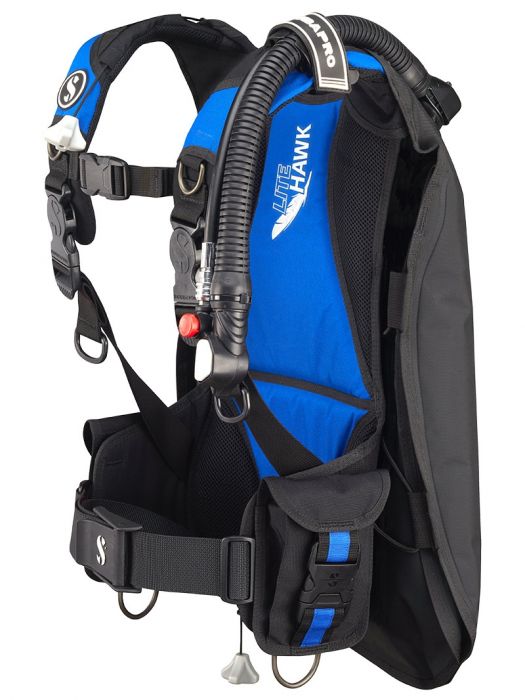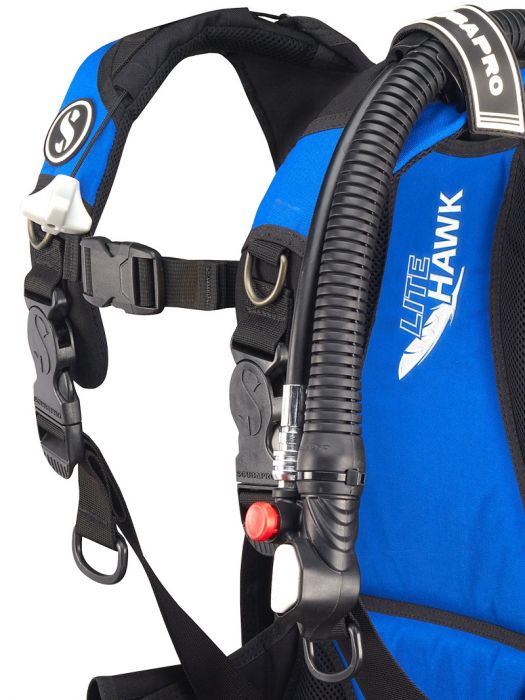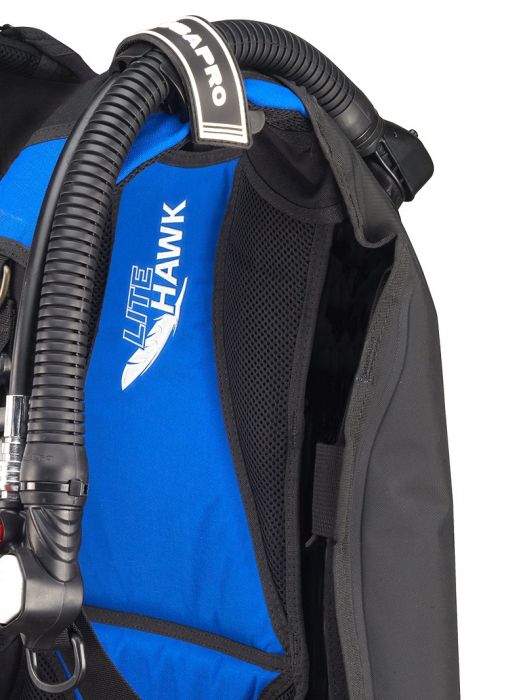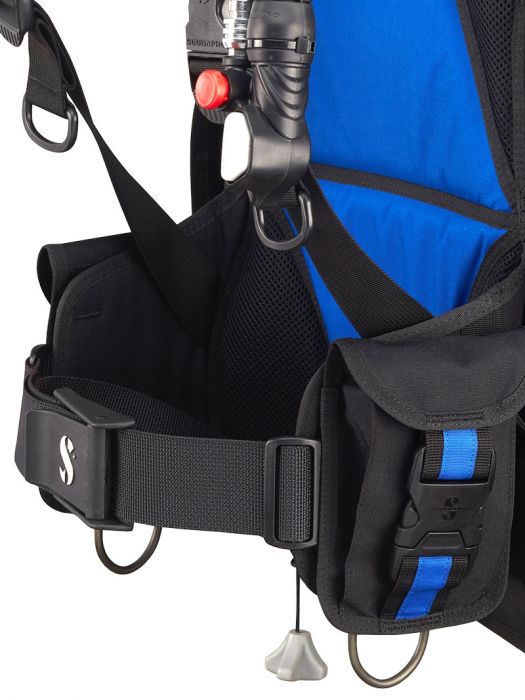 SCUBAPRO LIGHTWEIGHT TRAVEL PACKAGE
Regular price
£854.16
Sale price
£768.75
Save £85.41
/
Tax included.
Shipping
calculated at checkout.
---
Free UK & Ireland Shipping
As Baggage allowances get smaller and smaller, the weight of you equipment is becoming more of a consideration. With this is mind Aquaholics presents the Scubapro Lightweight Package. This package is perfectly suit to the avid traveller or holidaymaker looking to travel with their own equipment but are worried about weight. The total package weights in UNDER 4KG! (for a size M/L BCD).
MK17 Evo/C370
This reg system combines SCUBAPRO's premium diaphragm first stage with its newest air-balanced second stage. The MK17 EVO is completely sealed off from the elements, ensuring trouble-free operation no matter how cold or murky the water gets. It is more compact yet delivers better breathing performance than its predecessor. Its improved internal design allows more airflow from the LP ports which have been reconfigured for better hose routing. The new C370 brings forth the best features of its predecessor, the C350, while adding a balanced valve to its design. Its new exhaust tee, based on the S620Ti's design, contributes to a 10% improvement in work of breathing over the C350. It's a smart reg system for all kinds of diving applications.
FIRST STAGE
Air balanced diaphragm delivers constant and effortless airflow unaffected by depth, tank pressure, or breathing rate
Environmentally sealed system prevents water and pollutants from fouling the inner mechanism
Dry ambient pressure chamber increases freezing resistance, ensuring consistent airflow in the coldest conditions
Two high pressure and four high-flow ports maximise air delivery and hose routing options
External intermediate pressure adjustment enables technicians to fine-tune performance quickly and easily
Available in either 232bar INT or 300bar DIN configurations
DIN version comes with a dual-compound wheel that features an ergo shape and softgrip on a rugged black nylon frame
Weight INT 232: 860g; DIN 300: 640g
Airflow at 200bar: 6900 l/min
Intermediate pressure: 9.0-9.8 bar
SECOND STAGE
Air-balanced valve smooths out the inhalation effort at varying depths and supply pressures
Compact rugged fibreglass reinforced nylon casing and new exhaust tee take up little space in a dive bag
Stainless steel frame on the front cover adds the SCUBAPRO C-Series signature
A new poppet and lever allows the design to maintain the same overall size as the C350
A new exhaust tee based on the S620 Ti's design contributes to better work of breathing (a 10% improvement over the C350)
User controls include a diver-adjustable inhalation effort knob and Venturi-Initiated Vacuum Assist (VIVA)
Large purge button is easy to activate, even wearing thick gloves.
Super-flow hose features an oversized bore that allows more air to flow on each inhalation
Compact Hi-Flow mouthpiece improves airflow as well as mouth comfort, fitting all mouth sizes, from smaller to largest
Weight: 171g.
Airflow at 200bar: 1600 l/min
R095 Octopus 
Features a classic downstream valve for optimal breathing performance.
Preset inhalation and Venturi-Initiated Vacuum Assist (VIVA) provides hassle-free air delivery.
Metal valve housing is built rugged and increases overall reliability.
Yellow super-flow hose is 39 inches long and features and oversized bore to increase airflow.
Ultra-comfortable orthodontic mouthpiece is easy to grip yet doesn't inhibit airflow.
Weight (without mouthpiece): 5.0oz/141g.
Airflow at 2900psi (l/m/SCFM): 1400/50
Litehawk BCD
The Litehawk is the ultimate back-flotation travel BCD. Its lightweight, ultra-slimmed-down design and soft, flexible backpack allows it to lay flat and compact for packing. The adjustable belt-style waist strap with nylon buckle can be cinched up snug, hugging your body like it was custom made for you while delivering a comfortable, stable ride at depth.
Constructed of 420 denier nylon for lightweight and long-lasting durability.
Low-profile, progressively-shaped rear air cell increases range of motion while decreasing drag.
Elastic cords rein in the air cell when partially inflated and help control deflation.
Clutter-free ergonomic harness eliminates bulk and enhances freedom of movement.
Rotating quick-release buckles allow you to optimise the routing of the padded shoulder straps to maximise fit.
Multiple tank band and strap system keeps tank secure and increases stability at depth.
Three-dump deflation system lets you to dump air from a variety of underwater positions.
Two accessory pockets are included.
Two rear trim pouches allow you to achieve a well-balanced swimming position.
Four aluminum D-rings provide convenient clip-on points for additional gear.
With BPI.
SCUBAPRO's Compact Pressure Gauge is an ideal travelling gauge or back-up instrument.
400bar model, compatible with high pressure systems 200 and 300 bar systems.
Red zone between 50bar and 0bar for increased safety.
Two extra loops on sides to attach safety lanyard
Free UK & Ireland delivery on order over £50.00. If order is placed before 12pm and item is in stock will be dispatched same day.