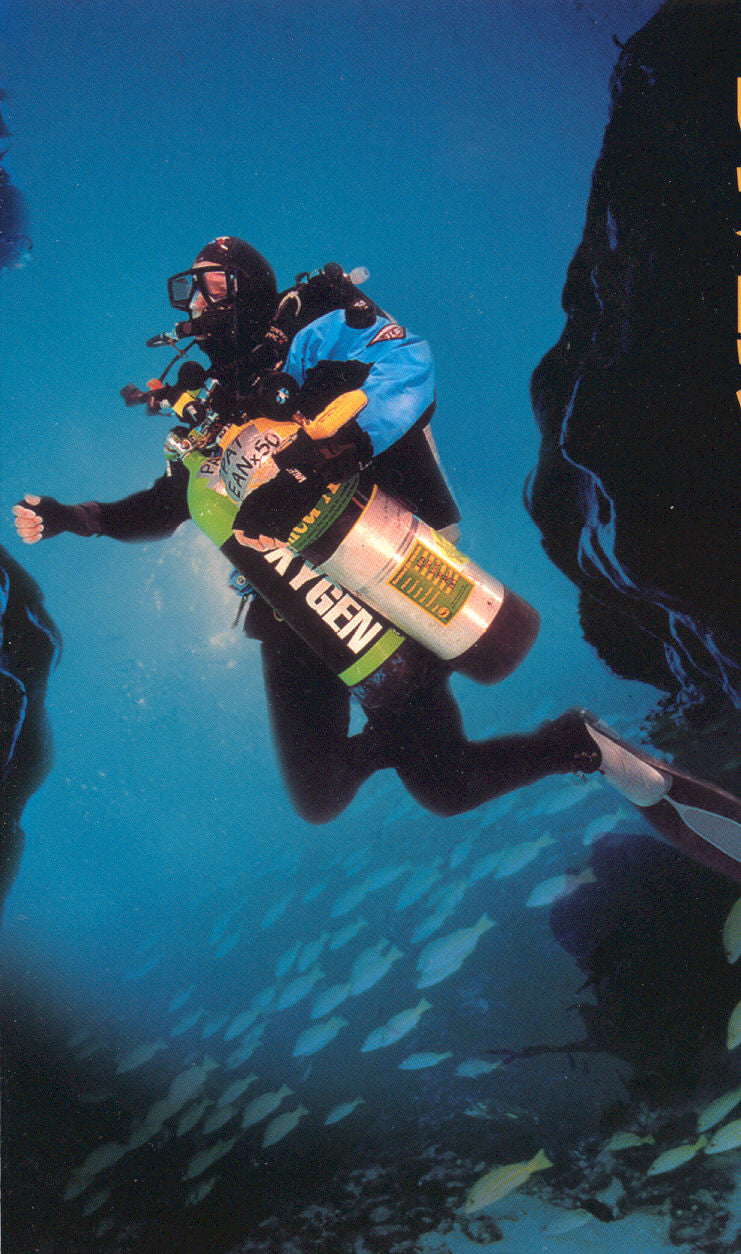 PADI TEC Trimix Course
TRIMIX65
Regular price
£458.33
/
Tax included.
Shipping
calculated at checkout.
---
Free UK & Ireland Shipping
The PADI Tec Trimix Diver course takes you to the outer edges of technical deep diving, opening the door to pristine dive sites few divers have ever seen.  This is the ultimate open circuit diving qualification
What you will learn
This course extends and expands the skills of the Tec Trimix 65 diver by continuing the development of strategies for overcoming oxygen and nitrogen gas limitations for deep technical decompression diving. Training dives are limited to 95m, but once qualified and after more experience, divers can plan and execute dives to deeper depths
Certified Tec Trimix  divers are qualified to make multi-gas decompression dives using a Hypoxic Trimix blend.  That is, a blend that contains an Oxygen level of less than 18% and could be as low as 9% (depending on the planned depth) Helium and Nitrogen. You will use more stages for Travel and multiple Stages containing EANx gases for accelerated decompression. 
The Scuba Gear you will use
A standard configuration of technical scuba gear
Double/Twin Cylinders, with a minimum capacity of 12 litres each, with an isolator manifold 

Primary & Secondary Regulators, with one hose configured with a long 2m hose

Two Stage decompression cylinders

Backup decompression cylinders as required for the specific environment

Tec harness and BCD Wing with redundant buoyancy, usually provided via a dual bladder

Computer and backup computer or depth gauge and a bottom time

Slates to record decompression information and backup tables

An exposure suit appropriate to the environment.  If you use a Dry suit, you must be trained and experienced prior to using it for this course

Argon dry suit inflation system or another appropriate system

Weight system

Slates to record decompression tables

Dive light recommended

Inflatable DSMB & Reel

Compass

Two cutting tools

Mask & Backup mask
Required Learning materials
A Padi Tec Trimix Crew Pack. The crew pack includes all required materials - Manual, Emergency Procedure slate, trimix decal
Trimix diving depth ranges

Exposure planning

Gas selection

Argon inflation systems

Handling multiple decompression cylinders

Decompression models

Emergency proceedures

Multi gas computers
Prerequisites
18+ years of age
 

Have a minimum of 150 logged dives

 Padi Rescue Diver (

or hold a qualifying certification from another organisation)

 Padi Tec 65 (or hold a qualifying certification from another organisation)

 

Have a medical form signed by your physician within the last 12 months
 Diving insurance to cover technical diving
Go explore the ocean and visit those deeper wrecks that were once out of reach!!
Free UK & Ireland delivery on order over £50.00. If order is placed before 12pm and item is in stock will be dispatched same day.